Cindy flew into Paducah, Kentucky on Saturday, September 2nd. We have planned a little trip from Paducah up to Scarborough, Maine to visit my Uncle Arthur and Aunt Sheila. From there we will head back to Buffalo, Wyoming to Celebrate Cindy's Mother's 96th Birthday. We will visit many places in between and have lots of fun!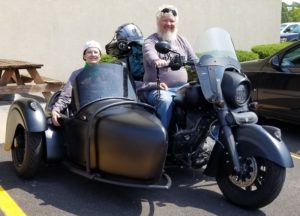 We started out the day with Breakfast at the Gold Rush downtown Paducah with a couple friends, Shawn and Corrie. We got all packed up then hit the road around Noon. We rode to Louisville, Kentucky and Cindy took in a couple of the sights.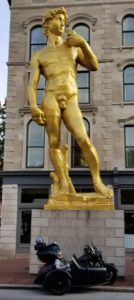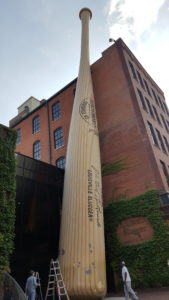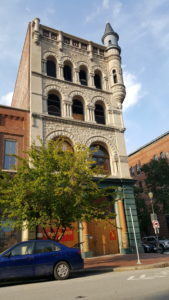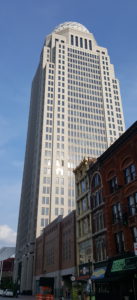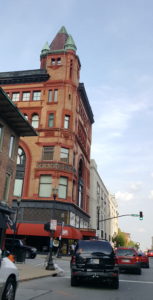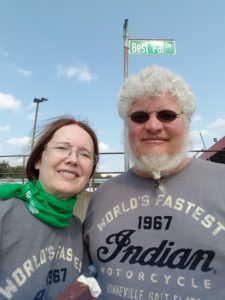 From Louisville we headed Northeast to Richmond, Kentucky where we spent the night at a Motel 6. Just up the road is CCM Indian of Northern Kentucky. I have heard good things about them and kind of wanted to stop in and check them out. That probably won't happen as today is Sunday and tomorrow is Labor Day Monday and I am sure they are closed tomorrow.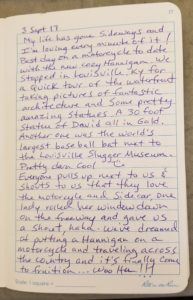 So, we get up at 0700 Monday morning to get packed up and on our way. We have everything on the bike and Cindy is in the Sidecar by 8 ready to go. I push the start button and all it does is click once and then nothing. I try this several times with the same result. I don't think I am Insane, but I WAS hoping for a different result – like maybe the Bike would start up like it is supposed to. Unfortunately it did not. I called around trying to find someone open. We have AAA RV Plus – so we could have gotten a tow a couple hundred miles. Sadly, because it is Labor Day today, NOBODY is open. Well, Indian of Northern Kentucky is only a couple miles from here. I guess we will just have AAA take us there and wait until tomorrow to get the bike checked out.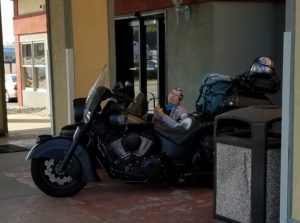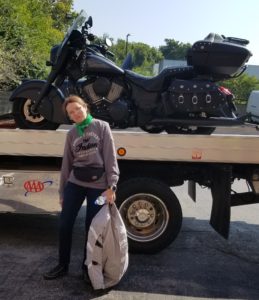 Two guys from AAA showed up with a Flatbed Truck and took us to the CCM Indian of Northern Kentucky parking lot.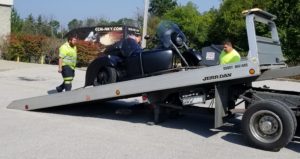 We left the Sidecar Rig there for the rest of the day and overnight.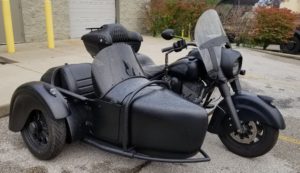 We spent a second night in Walton, Kentucky waiting for the shop to open in the morning. Hopefully they would get me right in and look at the machine, locate the problem, and get it fixed for us so we can get back on the road.

Tuesday morning and I am up at 7. We got a little breakfast at the Burger King next door. The shop doesn't open until 10 and we are about 2 miles from it – should take me about 40 minutes or so to walk there. So at 9 I left Cindy in the Motel watching TV, and started walking to the Indian Dealership. I got there about 0930. Employees started showing up within 5 minutes – most said "We don't open until Ten" I replied that I knew that, but didn't have anything else to do. Then a guy named Mike showed up and asked me a couple questions, he said he'd be back in a minute after he got his crew going on what needed to be done for the day. He came back out at about ten to Ten and started filling paperwork out on the bike. Then he pushed it inside and told me to meet him around Front at the Service Counter. So I went in (doors unlocked at Ten Sharp) and met him at the Service Counter. He put all my info into the computer and said he'd let me know when it was ready. I looked around the store – a very nice one and they also sell Motus Motorcycles, so I got to get a close-up look at those. They are pretty nice machines.
At 1045 Mike told me my bike was good to go. It seems the Battery was completely Dead and wouldn't hold much of a charge. He said this was a warranty problem. He said he checked out the Voltage Regulator and other things in the Electrical System and all that checked out okay. He said they replaced the Battery under Warranty so there was No Charge to me for the new battery nor the work to replace it. Excellent! It started right up, so I drove it back to the Motel and got Cindy. We packed up the rig and went back to CCM Indian of Northern Kentucky where we purchased a couple t-shirts and a helmet for Cindy. Those guys were Fantastic. We are back on the road!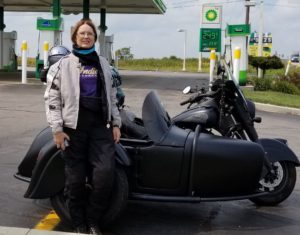 We rode into Ohio, heading Northeast to Maine. Cincinnati was the first city we entered as we crossed the Ohio River.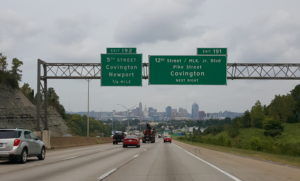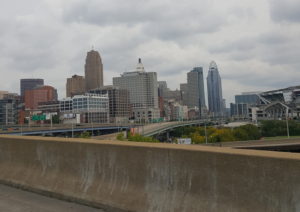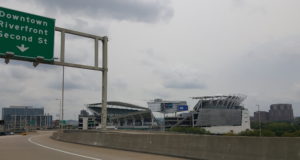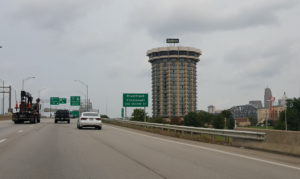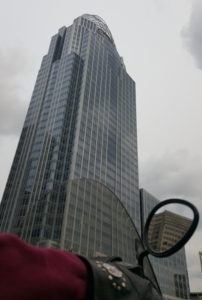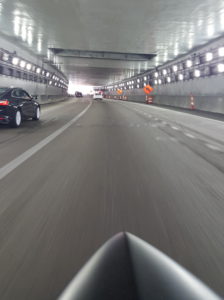 We rode through the Ohio countryside.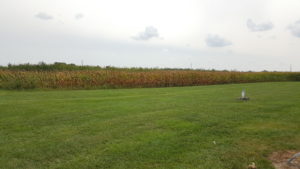 We rode to Columbus.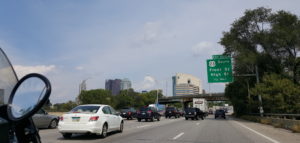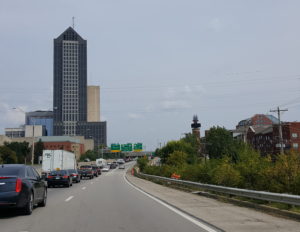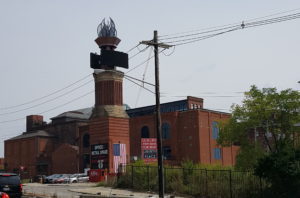 We stopped for lunch at Arby's. Cindy couldn't get over the Maple Syrup/Bacon addition to the Milkshakes. All I could think was "Yuck!"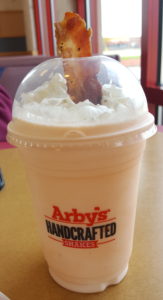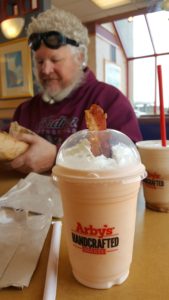 We rode on through Columbus and into Pickerington, Ohio where we discovered the AMA Motorcycle Hall of Fame Museum. I knew that it was somewhere in Ohio, but I didn't realize we were driving right past it! Of course we stopped to visit.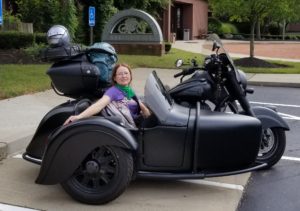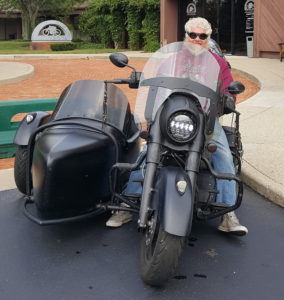 Inside the Museum are some of our Favorite Exhibits.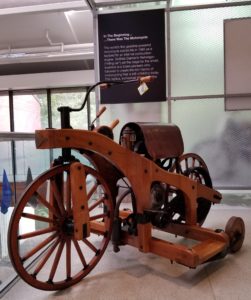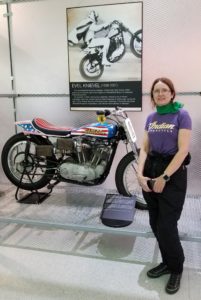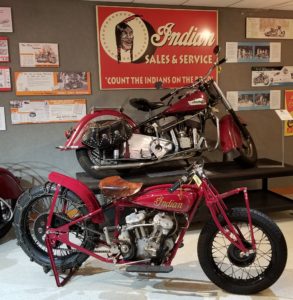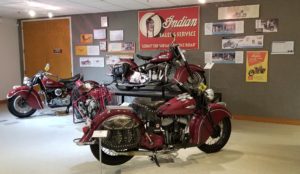 Dave Barr is one of my Heroes, and to see his Motorcycle and Prosthetic Legs on display was one of the highlights for me. You can read his story in his book Riding the Edge.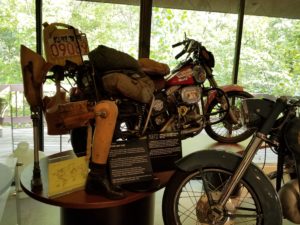 After visiting the museum, we got back on the road and headed East into Pennsylvania. We made it as far as Washington, Pennsylvania. We found a Motel 6 and spent the night there.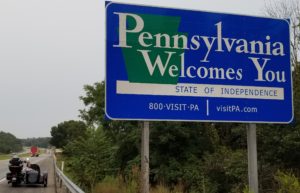 In the morning we got up around 7:30. I packed up while Cindy showered. We found a little place for Breakfast – Doug's Dog House. It was a neat little place and had really good food. We love trying Breakfasts at little diners during our travels. Breakfast is one of my favorite meals.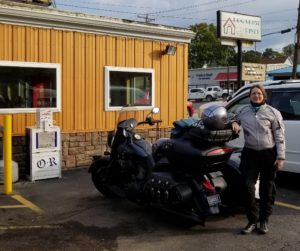 After breakfast we headed towards Hershey, Pennsylvania. It was rainy, but we were bundled up pretty well in our Rain Gear. Both of us have Frogg Toggs which work pretty well.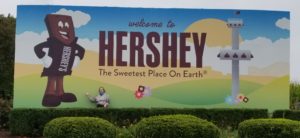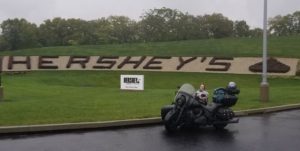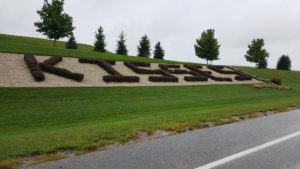 One of the neat things in Hershey is that the street lights all look like Hershey's Kisses!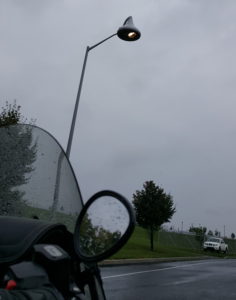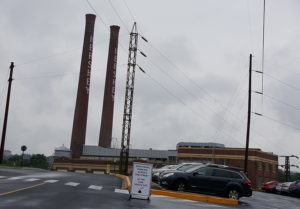 Inside the Hershey's museum are a lot of pretty neat displays. They tell the history of Hershey and his company. They have a simulated work area to give the visitor somewhat of an idea what it was like to work at the Hershey plant in the late 1800s. We didn't take a lot of pictures, but we had a great time.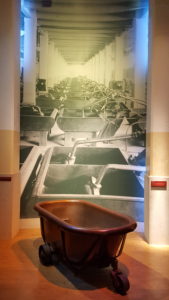 This Lamp was manufactured in 1885 and Hershey bought it for $3,500 usd. We thought that was interesting because our house in Helena, Montana was built in 1885 for a cost of $3,500 usd!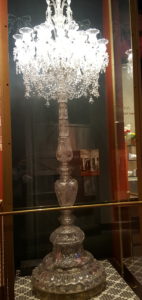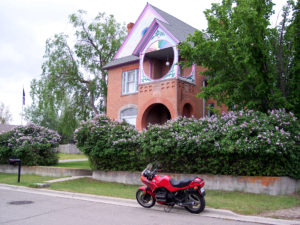 After leaving the Hershey museum, we headed east to Annville, PA. This is where a client of Cindy's lives and he had told her to pop in and say "hi" if we ever made it to Pennsylvania. So Cindy called him and told him we were in the area and he invited us to come by for a spot of tea. Thanks Don Miller for your Hospitality!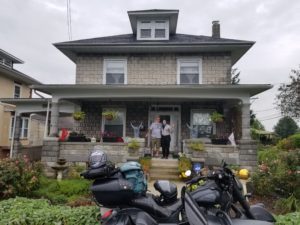 Next we headed towards Springfield, Massachusetts. I had made contact with an acquaintance from the Indian forum, indianrider.net, and we had agreed to meet at the Springfield Museum to check out the Indian Displays and then go have lunch somewhere. It had been raining on us all day, but by the time we got to Springfield, the rain had pretty much drizzled out.

On our way to the museum we passed by some painted walls. These pictures are for you Heidi Lyman!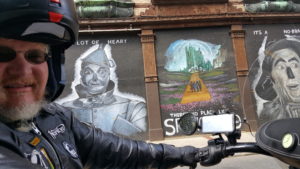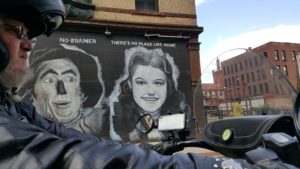 We met Jim, from the forum at the Springfield Museum.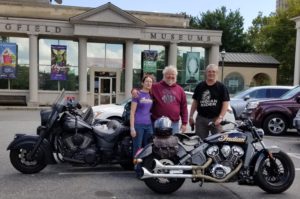 Jim got us tickets for the Museum on his discount – Thanks Jim! We had a good tour of the museum. It had a pretty good display of Indian Memorabilia. They had some motorcycle displays on the first floor and a good half of the 2nd floor was dedicated to Indian.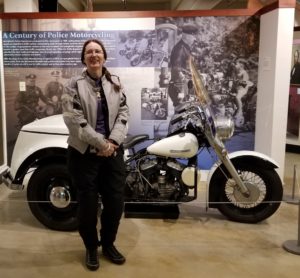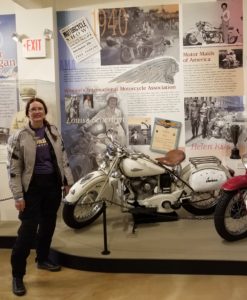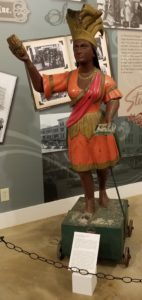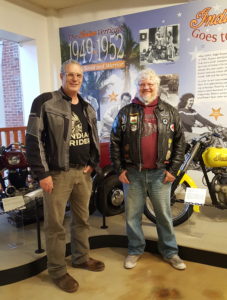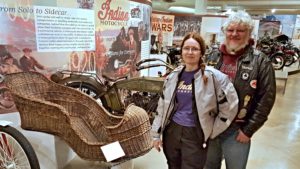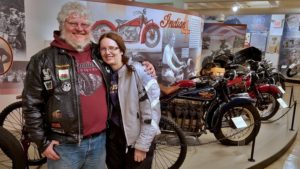 After our visit to the museum, we went to lunch. We talked about where we wanted to go and Cindy and I said we wanted to go somewhere different or unique – not just any old chain\fast food joint. Jim was agreeable. We checked out what was close and found a great little German restaurant – the Student Prince. The food was great. I had the Classic Wiener Schnitzel a' la Holstein, Cindy had German Macaroni, and Jim had a the German Sandwich Lunch Special. It was very good and the service was excellent.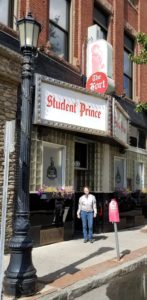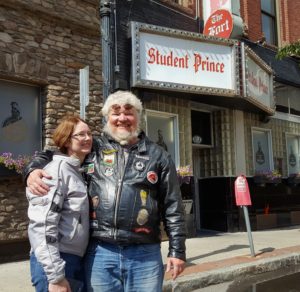 After our lunch at the Student Prince, I gave Jim a short ride in the Sidecar. I'm not sure what he thought about it, but he didn't do any screaming, so I guess he liked it okay.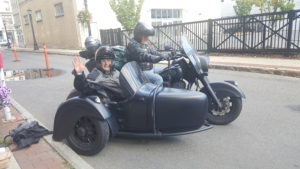 I sat on Jim's Scout. He has done several modifications to it and it is a pretty kool machine. Jim is over 6 feet tall and he has modified it to fit him better. His modifications made it more comfortable for me over the stock Scout. Good job Jim!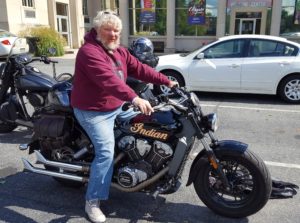 Then we parted ways with Jim. He went back to Rhode Island and we decided to visit Indian Motorcycle of Springfield which is actually in Westfield, Massachusetts. Dennis, the owner, is a great guy. The staff that works for him is very good and helpful also. A.A. is fantastic, she knows a lot about the history of Indian Motorcycle And she rides a 1929 Scout!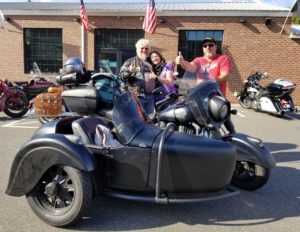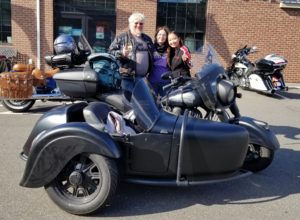 From there we headed towards Maine. It was another 4 or 5 hours or so of riding to get to Scarborough meaning that we would miss dinner with Uncle Art and Aunt Sheila. We would arrive around 8 pm, so we grabbed a bite at a little family-owned Cafe'/Bakery that was partnered up with a gas station just inside Maine. They had All kinds of pastries, pies, breads, and confections. It is run by the Children of the couple that started it and the grandkids and now great-grandkids work there. The sandwiches were very good.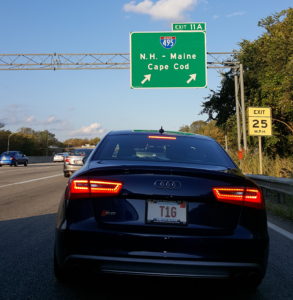 We were up and ready to go by 8 in the morning. Sheila knocked on our door and said Art was getting the car out front. They would take us on a driving tour of Portland and show us some of the Lighthouses. And, of course, Art wanted us to have the famous Maine Lobster Rolls for lunch. We started out at The Egg and I for breakfast. Then we went to the Bug Lighthouse.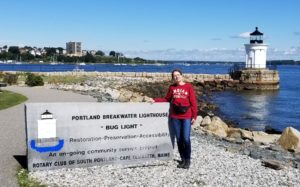 Next we visited the Lighthouse by the Fort where the Lobster Roll Van that Art prefers is parked. We walked around the grounds, looked at the Fort remnants and then got Lobster rolls and ate them at a picnic table by one of the beaches there in the park.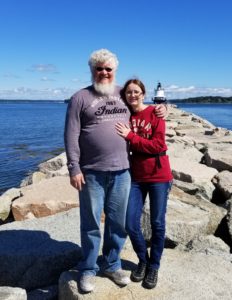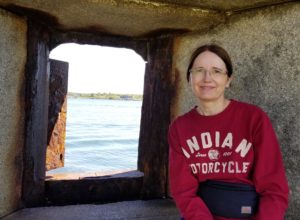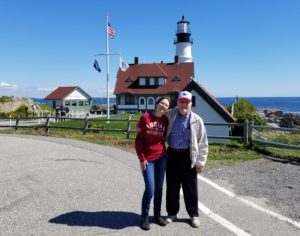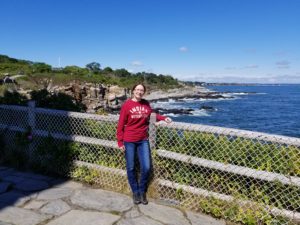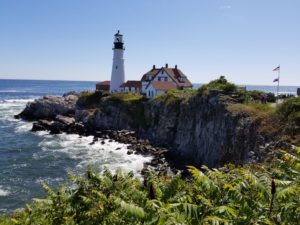 Lobster Roll Lunch! From Bite into Maine. It was Marvelous!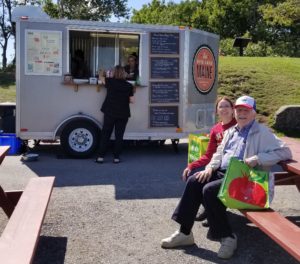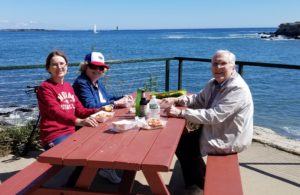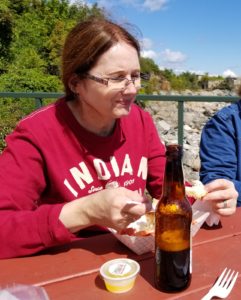 The next day Uncle Art took us up the coast a little. We started with Breakfast at L.L.Bean.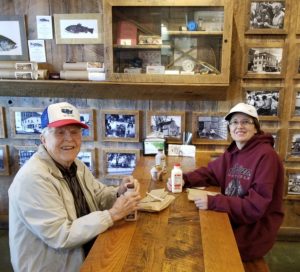 Then we drove up the coast looking at the houses and scenery along the way and enjoying all the activity in the little coastal towns. We went up to the top of Mount Battie. There is a pretty neat Stone Tower there that you can go up and get a really good view of the Coast, Mountains and Islands.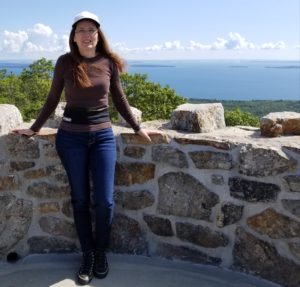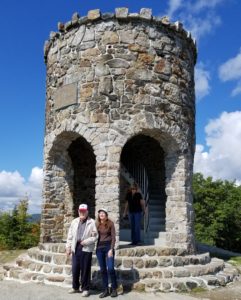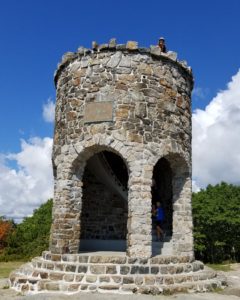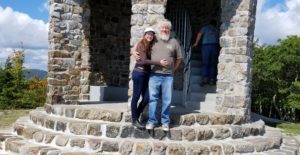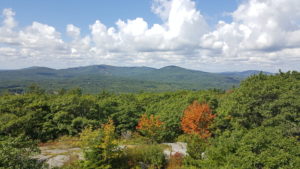 From Mount Battie we headed further North. We were looking for Bucksport and on the way we discovered the Penobscot River Narrows Tower Bridge. It is quite impressive. Signs said it is the 4th tallest tower bridge in the world and THE Tallest tower bridge in the Western Hemisphere.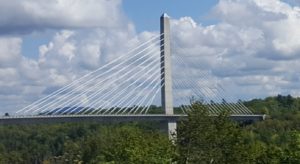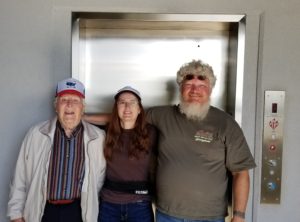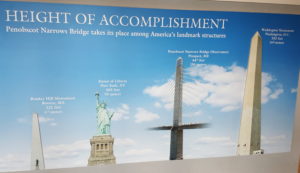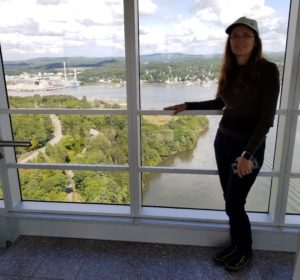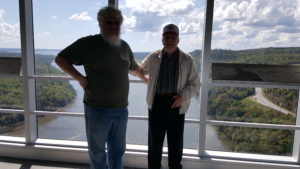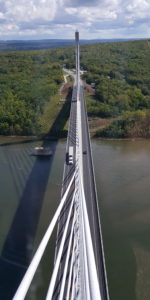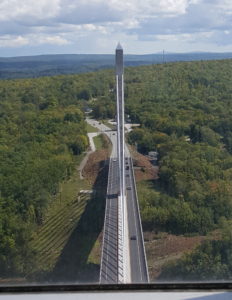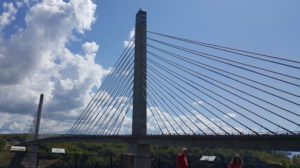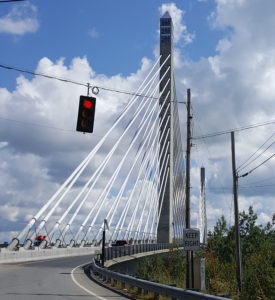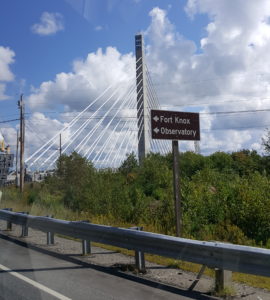 Right next to the Penobscot Tower Bridge is Fort Knox. It is NOT the Fort Knox where all the US Gold is stored – that Fort Knox is in Kentucky. This Fort Knox was used to protect inland Maine from threats going up the Penobscot River.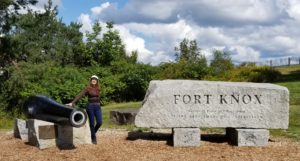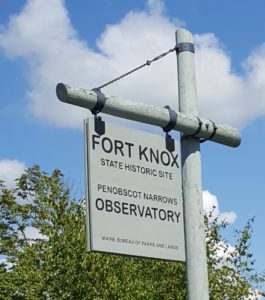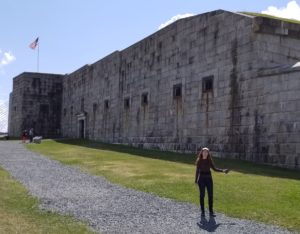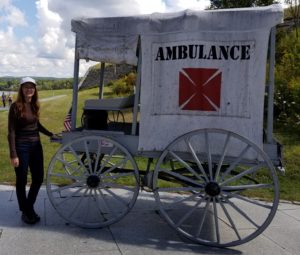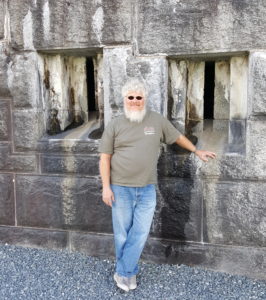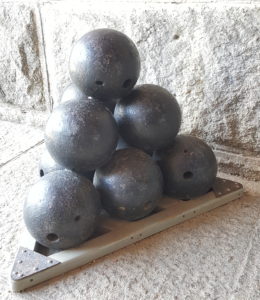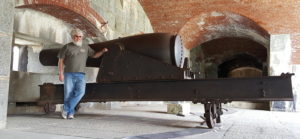 From Fort Knox we went across the Tower Bridge across Verona Island and into the little town of Bucksport. The main reason we came here was to see the Witch's Stocking on the Buck Family Monument. I had seen this back in 1975 when I spent the summer working at a camp on Mt. Desert for my cousin Andrea and her husband, Doug. The camp staff went on a little tour of Maine and Bucksport was one of the places we visited because of the legends. We wanted to see if there was any truth to any of it. Of course there was lichen growing in the shape of a stocking on the monument. In 1975 nobody seemed to really make a big deal about it and the monument was just a granite obelisk in the Bucksport cemetery. But now, I don't know how long ago, the town of Bucksport has put a wrought iron fence around the cemetery and put up a sign and an engraved plaque telling of the legends. They seem a little watered down from what I remember, but maybe the town doesn't want to scare anyone too much, or maybe they just don't believe anymore? Must get lots of tourists here though to see the monument.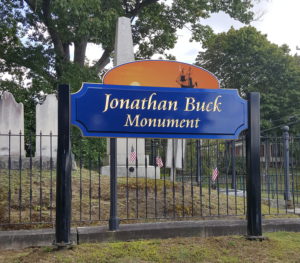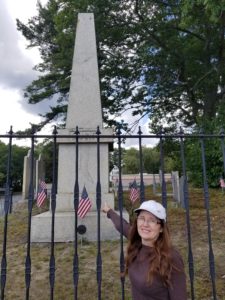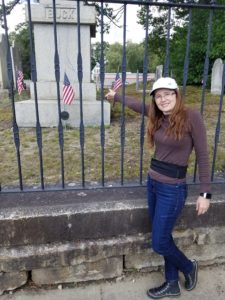 After viewing the monument and probably spending much more time looking at it than Uncle Art thought worthy, we had lunch at the Harborview Bar and Grill in Bucksport. It was reminiscent of the Blue Whale from Dark Shadows – not really, but Cindy and I were enjoying the proximity of where the story of Dark Shadows took place.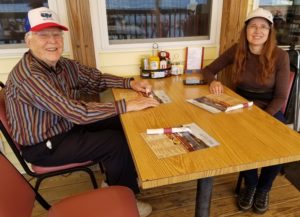 After Lunch we got back in the car and headed back down towards Scarborough. Uncle Art wanted to take us inland a little, drive us through the capitol of Maine, Augusta.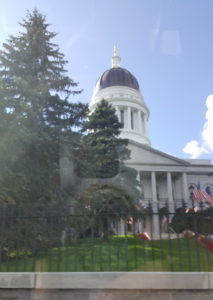 after that we found a little Ice Cream Parlour. There are actually Ice Cream places all over this area, but many were closed because it was after Labor Day and the tourist season is winding down. We did find an Excellent little place south and east of Augusta though. Uncle Art had WAY more Ice Cream than was good for him, I think. All 3 of us probably did though!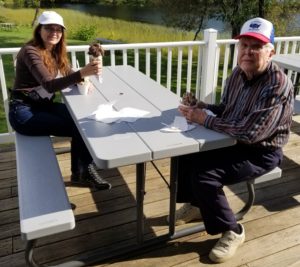 We drove through more little towns.

We got back to Piper Shores in Scarborough around 5:30 pm. We got cleaned up then met Uncle Art and Aunt Shiela for a 6 O'clock dinner. The Dining room at Piper Shores is fantastic and the food is very good.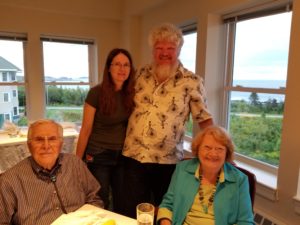 The next day we got up at 7:30. We packed up the Sidecar, had a small breakfast with Uncle Art and Aunt Sheila at the cafe' in Piper Shores. We made light plans to meet again next year and then said good-bye. We headed South. When we saw the turn-off to Kennebunkport we had to stop and visit that little town. This town is where the opening scenes to Dark Shadows, the 60s Gothic Soap Opera, were filmed; crashing waves on the Rocky Shores. Unfortunately, or rather Fortunately, it was a warm, calm, sunny day and there were no big waves crashing. It is a beautiful little town, right on the shoreline.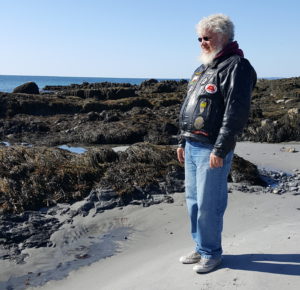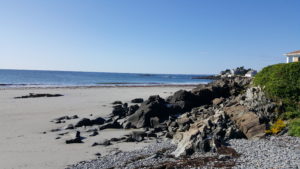 From there we drove east, back through Massachusetts. We were going to go through Vermont and New Hampshire to Buffalo, NY, but we had become aware of an issue with a Sidecar Fender bracket rubbing on the Sidecar tire and needed it to be dealt with.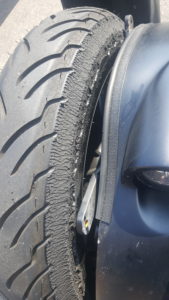 I didn't have any way of removing the Sidecar wheel to tighten up any bolts so we got a hold of Dennis at Indian Motorcycle of Springfield. His Dealership was open, no mechanics were in. They weren't scheduled to work tomorrow either as it was Monday. Sunday and Monday were the days off for his service techs. He did get one of them to come in Monday to get us back on the road as soon as possible. We spent Sunday night in Westfield, MA. Cindy got a flight out of the Springfield/Hartford airport to Casper, Wyoming so she would be in Buffalo, Wyoming for her Mother's 96th Birthday. She got an Uber ride to the airport at 5:30 in the morning. I was at Dennis' Dealership by 9. The mechanic got there right after and started working on the fender and replaced the tire.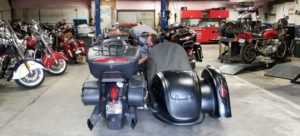 They also did the Warranty Fuel line work. I was back on the road around 11:30.
Cindy made it to Casper and got a ride with a friend up to Buffalo. She made it to Buffalo in time for Dinner with her Family. She had a good time at her Mother's Birthday party on Tuesday.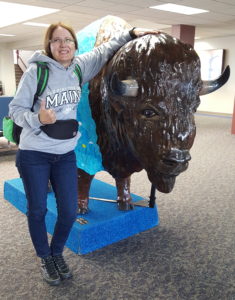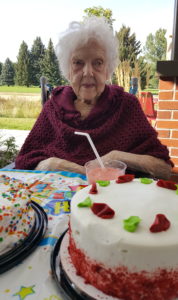 I drove to Sturgis, Michigan and spent the night there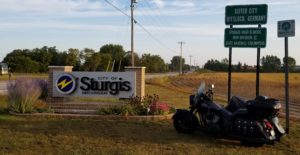 I got in around 1 or 2 in the morning and was back on the road by 7. I got the 40,000 mile service done at Gina's Motorsports in Monee, Illinois.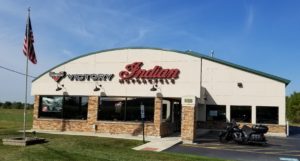 I was back on the road about 11 am, all serviced and ready to go. I stayed on I-80, south of Chicago, going through Illinois and Iowa. I ran into a Classic Car show at a gas station in Iowa.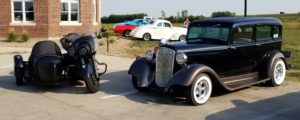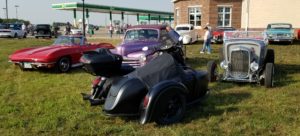 The longer I stayed at this gas station, the more Kool cars that showed up. I had to get out of there before I ended up staying too long. I got back on the road and made it to Spirit Lake Iowa. I am hoping to see the Polaris factory there where the Indian Motorcycles are built. I will get up about 7 in the morning and head over to the factory to see what I can see.
I got up at 7 and was all packed up by 7:30. I got over to the factory and their Indian Welcome Center was open. I got to go in and see that – it is pretty neat. They weren't offering factory tours, no one was available to give me one. I was told one needs to make an appointment for the factory tour. That is okay with me, but I will probably never get a tour because I can't plan well enough to make appointments for that kind of thing. I travel more by the seat of my pants than that.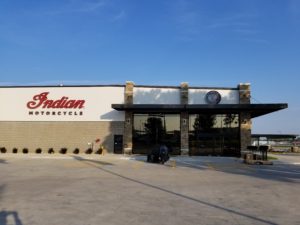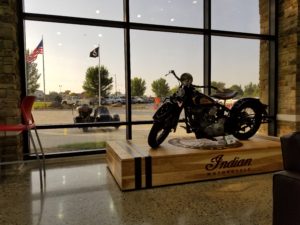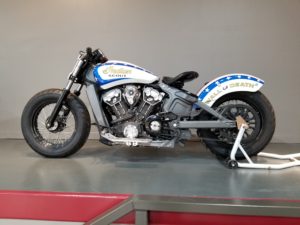 After visiting the Welcome Center, I got back on the road heading west. My next planned stop would be Indian of Sioux Falls, SD. This is the shop where I bought my Indian and Dan Stanton was the salesman who helped me out. He worked with me for over 2 weeks, communicating with me many times over the internet and got me my Indian the way I wanted it. Thanks Dan!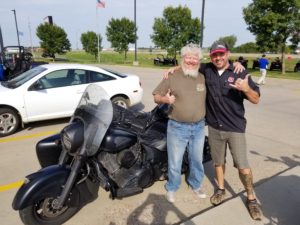 After a short visit with Dan, I headed west again. My next planned stop is Indian of Sturgis. As I was riding through South Dakota and coming up on Mitchell – home of the Corn Palace – I remembered that Klock Werks was located somewhere around here. I stopped in Mitchell for gas and looked up Klock Werks on the internet – Surprise, surprise! They were located right here in Mitchell. Well I would have to stop in and say "hi."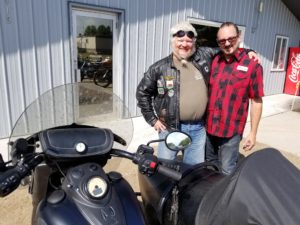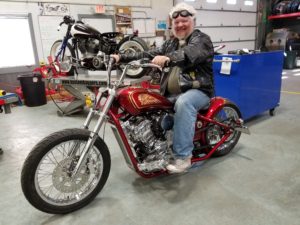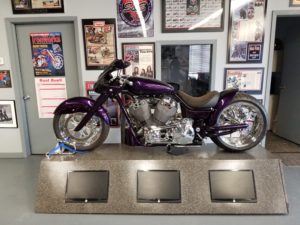 Brian gave me a good tour of his shop. I met Dan and a couple others. Everybody was great. Their shop is incredible and they have done a lot of really Kool stuff. There are some very nice machines all around their shop. My bike was pretty buggy when I showed up, so Brian gave me some of his Plastic, and Matte Paint cleaner and a rag. I tried it out later – it works great. Thanks Brian!
Back on the road, I kept heading West towards Indian of Sioux Falls. I wasn't sure whether or not I would get there before they closed. It would depend on the gas stops and other stops I might make while heading that way. I have to make almost twice as many fuel stops with the Sidecar on as I do when I am on the Bike without the Sidecar. That slows me down quite a bit.
I made it to Indian of Sturgis around 4:30 pm. I said "hi" to everybody, bought a T-shirt and then headed out. I like to touch bases with the Dealerships that treat me well when I am on the road. Indian of Sturgis has helped me out with servicing while I was on the road in the past. They are a great shop with fantastic people.
Back on the road and heading West to Buffalo. I should be able to make it there by dinner time, or shortly there after. I texted Cindy from my fuel stop in Gilette, Wyoming to let her know of my progress. I also texted her Brother, Ben, and asked him if he wanted to meet for a Beer when I got into Buffalo.
I got into Buffalo about 8 pm. Cindy was having dinner at one of the restaurants in Buffalo with her Grandson, Jager, and his mom, sister, and stepdad. Of course I had to give Jager a ride in the Sidecar right away!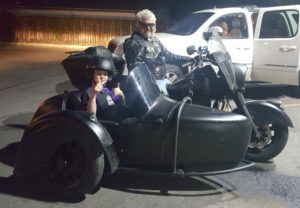 After visiting with them for awhile, Cindy and I went down to the Century Club to meet Ben for a Beer. We had a good time with Ben. It is always good to hang out with him. We made plans to visit him and Vicky the next day. We went to Donna's house for the night. Donna is Cindy's sister.
The next morning we had Breakfast with just about everybody at the Bozeman Trail, a full restaurant in Buffalo. It is okay, but there really are not many choices in Buffalo. There used to be a great place called Pistol Pete's, but I suppose there is not enough business in Buffalo to keep many restaurants open there – especially in the non-tourist season.
After breakfast I was coerced into giving everybody rides in the Sidecar. It was fun and I think everybody enjoyed the rides.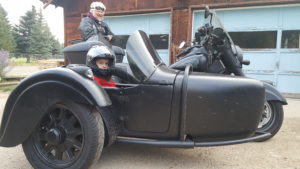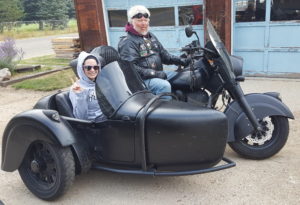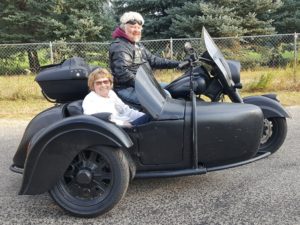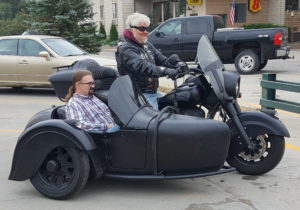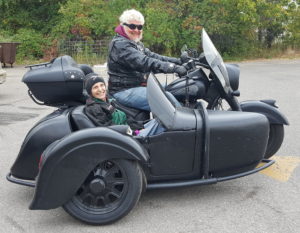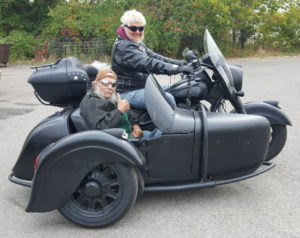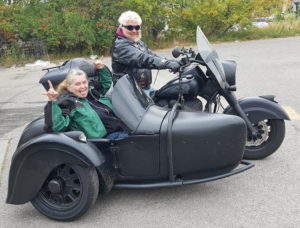 After the Sidecar rides, Cindy and I went and visited Cindy's mom. She is doing very well. She is always very happy to see Cindy, and seems happy to see me there with Cindy. Cindy is her Baby! We went back to Donna's house and packed up the Sidecar. The weather wasn't too bad at the moment, but Rain and probably even Snow were supposed to move in overnight and tomorrow was supposed to be pretty nasty weather wise. We were ready to go by noon. So we headed West over Highway 16 to Cody, Wyoming.
It was a cold ride, but no rain or snow was falling. The sky was mostly overcast, but as long as we are dry, we are doing okay. It was only 33f over the Powder River Pass. Brrr!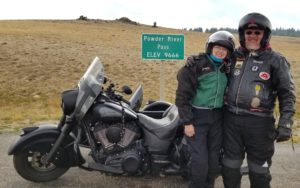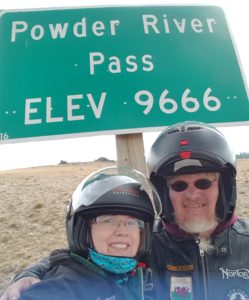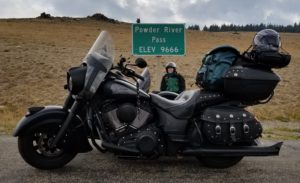 We continued along the road, enjoying the scenery as we went.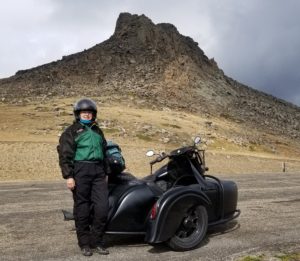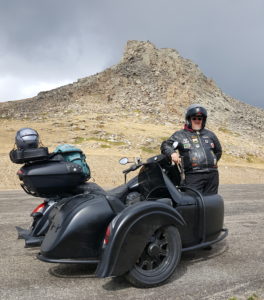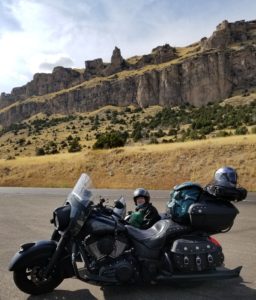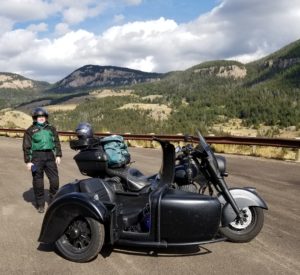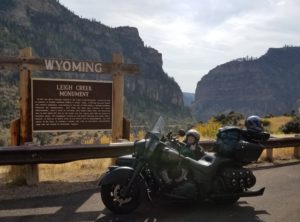 We got over the pass and through the mountains then out onto the plain. The storm clouds were gathering, but it wasn't raining or snowing yet. Of course several miles out of Cody, it decided to start raining. Plus it wasn't very warm. Them temperature had dropped from about 78f down to the upper 40s.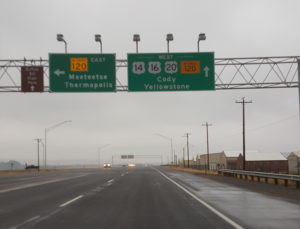 By the time we got into Cody, it was raining pretty good. Cindy and I were fairly damp, and ready to find a motel and get dried out. We wanted to clean up, dry out and get some dinner. We found a great Motel, the Big Bear Motel. It is a Great place and the owner is very friendly and helpful. This place is biker friendly, so when we come back through here, we will definitely stay here again. Later, after talking to friends, I found out that many of them have stayed at this place and always had a very good experience. The owner hooked us up with Dinner Reservations and a free drink at Cassie's Supper Club. The food and Service at Cassie's was Excellent. We met the owner of Cassie's and he showed us around a gave us some of the history of the place. It was a very enjoyable dining experience.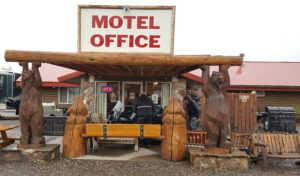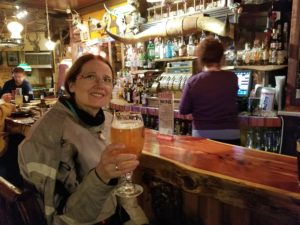 After a good night's sleep and getting all dried out we woke up to rain, Rain, RAIN! It was pouring outside. What a way to start the day. Oh, well. We were dry and we had all the Rain Gear. We got packed up, dressed up and were on the road by 8:30 in the morning.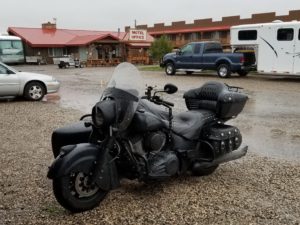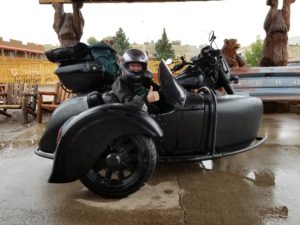 We left Cody and headed towards Yellowstone National Park. It is my favorite park in the USA. I have been there many times. This will be the 3rd time this year for me to visit on a motorcycle. I think it is Cindy's first visit in 16 years. I was hoping the weather would be better for her to see it, but it is still and incredible place.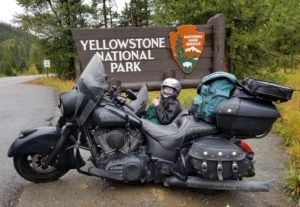 When we went over the Continental divides heading west to Old Faithful, it was snowing. It pretty much snowed or rained on us the whole time we were in the park. It was snow at the higher elevations and rain at the lower elevations. Cindy kept a good attitude and I think she was having a good time anyway.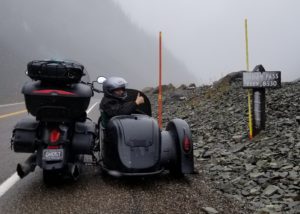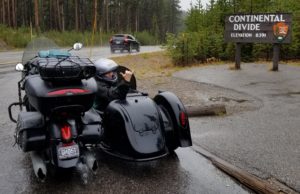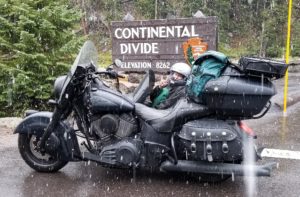 It seemed that the air temperature was in the the low 30s in the hills, and around the mid 40s in the flats. Like I said already, it was snowy or rainy the whole way.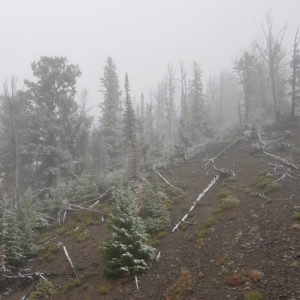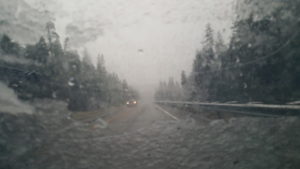 It was rainy when we got to the Old Faithful Inn. We lucked out and arrived there about 20 minutes before Old Faithful was ready to erupt. That gave us a chance to get some Hot Chocolate, use the restrooms, do a little tourist/souvenir shopping.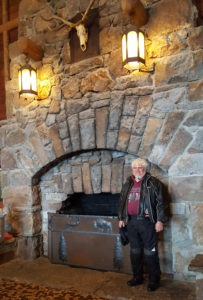 When Old Faithful finally went off, we saw it and took some photos, but it was so overcast and the clouds were so close to the same color as the geyser's plume that it is hard to see in our pictures.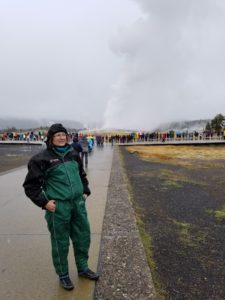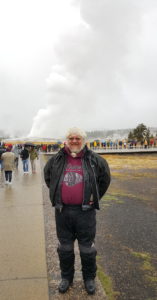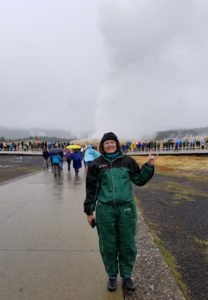 After the eruption of Old Faithful, we went to load back up on the Sidecar. It was raining, so I pulled the rig under the covered entrance to the Old Faithful Inn. That way Cindy could get in and settled into the hack without getting soaked. As I was getting off my machine, a couple Chinese tourists came over and asked if they could take a photo of my machine. I said "of course! And if you want, you can sit on the bike or in the Sidecar for your photos. Before we knew it, we were swamped by a whole huge group of them. It seems a whole bus load of them were there visiting and they ALL wanted photos of the Motorcycle Sidecar and its Rider and Passenger. We were waylaid for over 40 minutes by the photo enthusiastic tourists. It was fun, though, and I love turning people on to motorcycles and motorcycling.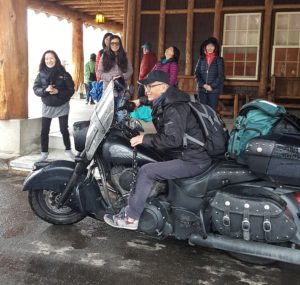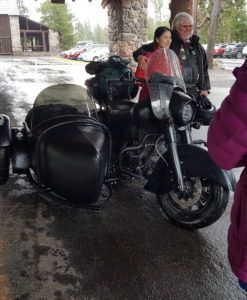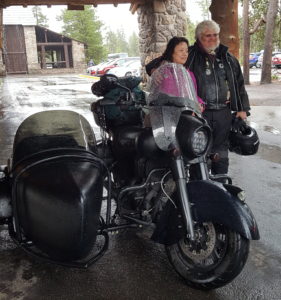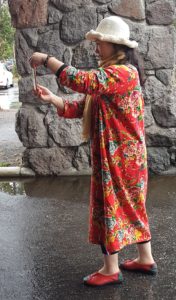 After we finally got loaded up and back on the road, it was more snow and rain through the rest of the park.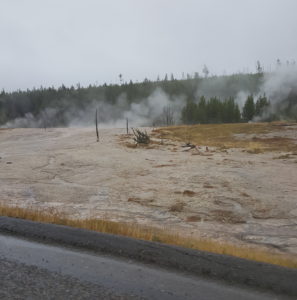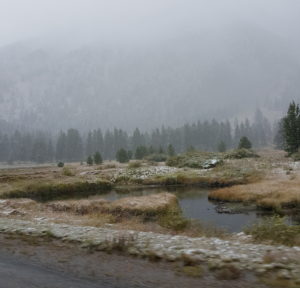 We made it out of the park and got fuel in West Yellowstone. It was still raining. We looked at the weather radar and google maps on our phones and supposedly the road through Ennis would offer the warmest, driest, fastest route home. So we headed west by Quake Lake and into Ennis. It snowed most of the way, but the roads were okay, and the snow is drier than the rain! We got into Ennis and took an extended break at the gas station so Cindy could warm up. We had a couple Hot Chocolates and a Chicken Cheese Sandwich that Cindy thought was gross, but was normal road food for me. After we warmed up, we headed back out on the road. Some woman had come in the gas station and was talking to her son. She had just come down the North Ennis Hill – where we were headed – and said she had never been so scared in her life driving on a road like that. I asked a couple other drivers coming from that direction and they said it wasn't bad, just 3 to 4 inches of wet, heavy snow on the road. Lovely. At least we had 3 wheels, so I wasn't worried about falling over. Also, I was really glad I had an all-weather car tire on the rear of the motorcycle. That should give me plenty of traction on the road. I wasn't worried.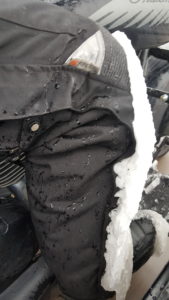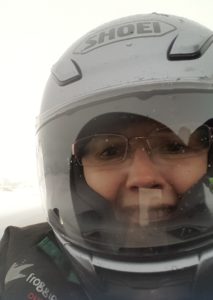 By the time we stopped for gas in Cardwell, the bike was pretty well covered in a snow-ice coating.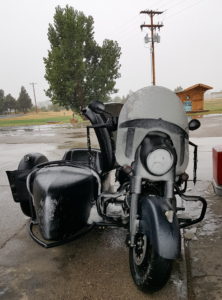 Next stop is Boulder, Montana on the other side of Highway 69. That road was actually pretty good. The road was clear and even though it was snowing pretty good in Cardwell, once we got onto the hill just north of I-90 it had stopped snowing. I had asked Cindy to let me know if she needed me to stop in Boulder. When we got there, Cindy indicated that she was fine and we should keep going. We only had half an hour left on the road at that point. The Boulder hill was the worst. It was snowing and there was about 5 to 6 inches of slush on the road. It was heavy enough to push the bike around a little, but the bike handled really well over all.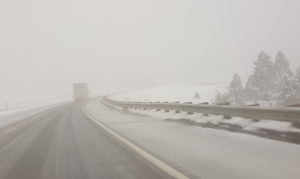 After we passed Jefferson City, the snow had turned to rain, and the roads were clear of snow, slush, and ice. The roads were wet, but that was okay. Cindy seemed to perk up a little as she saw the signs for Helena. She has had a very good attitude these past couple cold and rainy, snowy days. I am very happy that she is handling it so well. Thanks Cindy!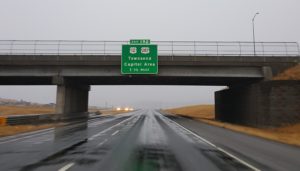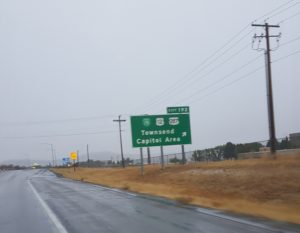 We pulled into our driveway about 8 pm. It was 36f and raining. We did a quick partial unload of the bike and got into the house. Inside it was only 60f but that felt really warm. We got out of our wet clothes, took warm showers, and Cindy fixed a little something to eat. We felt good. Our trip was over, and we were doing well.
I had an excellent time. I think Cindy had a good time. She was a real Trooper the whole way. Thank you Cindy for being such a positive passenger on a trip that had such ups and downs. I can hardly wait until next time!