In the summer of 2009 my Friend, Chris Drakos, and I started talking about taking a 3 or 4 week motorcycle trip somewhere.  We had both been riding for years and had been just about everywhere in the US.  We actually started talking about doing the trip to Tierra del Fuego - but figured that would be at least a 3 month trip and I told Chris I would rather take at least 6 months to do it.  Well, we decided a shorter trip together to see if we were actually compatible on such a journey might be a good idea.  After a couple conversations, Chris popped up with "How about Europe?"
"Fabulous!" I responded, "When do you want to do it?"
"How about Spring 2010?" He suggested.
So we started looking into that and I talked to Cindy, my wife, about it.  She said she'd like to go and I told her that would be fine, but she would have to be okay with traveling like Chris and I do - that is - by the seat of our pants and no real plans and definitely no reservations beyond the first night or two.  She said she was fine with that.
Well, first order of business is bikes.  Where, when, how?  Do we ship ours over to Europe?  Do we rent bikes in Europe?  How long are we going for?  Maybe we could buy bikes in Europe and ship them back when we were done? Or we could sell them when we were done, right?  Right.  Something will work out.  So I started looking on E-Bay Deutschland for motorcycles and sidecar rigs since Cindy wanted to go.  I found lots of interesting machines.  I shared what I found with Cindy and we talked about it.  We decided on a nice 1994 BMW K75 that was located just outside of Dusseldorf.  So I bought it - sight unseen.  Lots of photos and lots of conversations back and forth with the owner, David.  Chris couldn't believe it, but jumped on the bandwagon and found a really nice BMW F650GS that was located in a town about an hour from where my newly acquired machine was.  He bought that one, also sight unseen.  Our friends (and my wife) thought we were nuts.  We talked to the owners and they both said they would hold the bikes for us until we got there.  We were planning on May or June - depending on our work schedules.
It worked out that we got our flights for May 10th, 2010.  We flew into Dusseldorf from Seattle.  We had only one night's reservation at a hotel in Aachen, that supposedly was about 15 minutes walk from where the owner of my bike, David, lived.  It was about a 2 hour train ride to the town where Chris's bike was located.  We got in and settled at our hotel about 9 pm.  I had been in contact with David through e-mail and all seemed fine.  He had indicated he was expecting us.  So I called his number when we got settled and there was no answer.  I left a message.  Chris got a hold of his guy and made plans to meet at the train station at noon the next day.
Chris left about 8 in the morning after we had breakfast.  I had called David a couple times and written a couple e-mails - no response on either communication.  Cindy was thinking we had been had.  We had paid with Paypal, but we were long past the 30 day money back thing.  I wasn't too worried yet.  After all, I had been communicating regularly with this guy even though my German was pretty weak and he said he didn't speak English.  Google Translator was a great help!
I had my cell phone with me and Cindy had hers.  We had left both our numbers on the messages and e-mails I had left for David.  Cindy was worried and I told her it was no big deal at the very worst we were out Three Grand.  We were still in Europe and we would still have a good time even if we had to rent a bike or a car to do it.  We walked around the little town, took in the sights, had a good lunch and walked around some more.
Chris called about 2 pm letting us know that he had picked up the bike and would be riding it and wanted to know where we wanted to meet him.  I told him of our situation and we decided to spend another night in the same hotel.  I made the deal with the hotel and was told we could stay as long as we needed.  We met Chris for dinner at some little Italian restaurant - Pinochio's - and had an excellent meal.  We still had no word from David.  It was now about 8 pm.
About 9 pm my phone rings.  I answered it and some woman is speaking German on the other line.  I asked her - in my very bad German - to please speak slower, she apologized and though I didn't understand everything she said, o got the jist that David had been rushed to the hospital the other morning, he was okay and she would meet us at our hotel in the morning at breakfast - about 8 am if that was okay.  It was fine.  See Cindy, no worries.  Cindy was still skeptical.
We got up and went to Breakfast about 7:30.  Just before 8 am a Man, a Woman and 3 kids about 8 to 15 years old came in.  They were all Jolly and the oldest daughter asked us in English if we were Sam and Cindy.  We said we were and then introductions were made.  This was David and his family.  He wanted to know if I would like to look at the bike - I told him of course I would.  So we finished breakfast and walked down to his place - about 15 minutes.  The bike was in a shed and was in excellent shape.  He started it for me, let me ride it around the block then asked what I wanted to do with it.  I told him I wanted to ride it away and was going to ride it around Europe.  He said "No, you can't do that."  Why not, I inquired.  He went on to tell me how the bike was not registered in my name and there was insurance to get and all that legal stuff.  I told him not to worry, I would get it handled.  He wanted to know how.  I told him I would figure it out.  He said that wouldn't do.  Now Cindy thought we were really being had - she figured he would want more money or something.  He asked what our immediate plans were and I told him that Chris had his bike and we were going to meet him and then start touring Europe.  He asked me to get Chris on his bike and meet us back at his place in an hour.  So I went and got Chris and told him what was going on.  Chris said okay and followed us to David's Apartment building.  David gave me the keys to the bike and asked me and Chris to follow him in his car.  So we did.
Well it turns out that David, like most Germans, like to abide by the law 100%.  He led us down to the Dept. of Motor Vehicle Licensing and walked us through the process of getting the bikes titled in our names and insured.  We got new License plates and all our paperwork and were now legal to ride our bikes in All of Europe.  Fabulous!  How can we thank you David?  No thanks necessary, just want you to have a good vacation.  We took David and his family out to dinner.  It was the least we could do.  He had asked me to bring a Honda Motorcycle Jacket over from the US - they were prohibitively expensive in Europe - so I did.  He planned on paying for it, but I wouldn't let him after all the help he had given us with licensing the bikes.  We spent one more night at that little hotel in Aachen, just outside of Dusseldorf.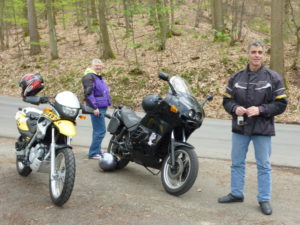 In the morning, after breakfast, we packed up and headed Southeast.  Chris had found this guy, Stefan Knopf, on the internet and wanted to check out his place.  Chris said Knopf had a website which advertised motorcycle travel, rental, tours and other stuff.  It also said Knopf ran a Bed and Breakfast and was located in Heidelberg.  Okay, Heidelberg here we come.  We decided we would take secondary roads as often as possible - try to stay off the Autobahns - and enjoy our trip.  After all, we weren't in any hurry to get anywhere and had no real plans.  We had four weeks and our intention was to see as much of Europe as possible. Ha! Little did we know.  We also decided that we would stop and see Every Castle we could along the way. Ha! Again, little did we know.  Anyway, we were on the road headed to Heidelberg, looking for castles.  The sun was out, there were no clouds in the sky. we were all papered up and our tanks were full. Lass Uns Gehen!