I got a sidecar because I had 2 children who both wanted to ride on the motorcycle with dad at the same time. And we couldn't legally do it. Besides that, my daughter was 6 years old and my son was only 1. He couldn't legally ride on my Motorcycle at all – but he screamed louder than a Banshee if we took off without him.
Solution: Sidecar.
So I started looking at sidecars. I researched them. I have always been into Adventure Motorcycle Travel and one of the trips I want to make is down to Tierra del Fuego, but I want to drive the Whole way – that is – Drive through the Darien Gap. One of my Favorite books ever is Obsessions Die Hard by Ed Culberson. After reading that book, I discovered that no Sidecar Rig had ever made that trip. So, thinking that I would use the sidecar for Adventure travel as well as toting my kids around, I started looking for Sidecar Rigs that would be good for Adventure Travel and Off-road use.
In my research I read about the German Sidecars of WW2 – The BMW and the Zundapp Heavy Sidecars that were 2-wheel drive – that is – they had Powered Sidecar Wheels! Now How Kool is That?!? One of those would be perfect for a trip through the Darien Gap and it would be really cool to drive one of those around anyway. Then I discovered that FN of Belgium built a sidecar rig in WW1 that had a powered sidecar wheel. So I started looking for one, any one, of those rigs. What I found was that they were around, but prohibitively expensive for me and parts were basically unavailable. Not a good choice for a Daily Driver, let alone an Adventure Motorcycle trip through the Darien Gap and into South America. I kept looking.
Now the Sidecar World in the USA is fairly small and it isn't long before you've found most of the sources and info available. There are only a handful of manufactures and a few more enthusiasts that are willing to help. There are more now, but in 1998/99 there were only a few. I was living in Spokane, Washington at the time and working a lot in the Seattle area. On one of my trips to the Seattle area I decided to touch bases with a guy who had recently started importing Sidecar Rigs from Russia. He had gone to Russia a few years earlier to look into the Potato market and while over there decided to visit a factory that had been producing Sidecar Rigs since WW2. He was a Sidecar fan – had an Indian Chief with a Sidecar – so, of course, wanted to check out any sidecars he could. Well long story short – too late – he started importing these Russian Sidecar Rigs into the USA through the port of Seattle. The factory is IMZ and the sidecar rig is known as the Ural. The Super Kool thing about the Ural is that they had a model with a powered sidecar wheel. It was called the "Sportsman" for the US market, but halfway through 1998 the mechanism for powering the sidecar wheel changed and the model was now known as a "Patrol" and I wanted one. I was informed that a Ural dealership had just opened up in Spokane – like 2 weeks before my trip to Seattle – and I could pick it up there. So in November of 1999 I bought a '99 Ural Patrol for the amazing price of $9,499.00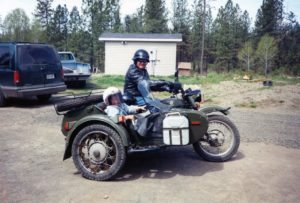 I had never driven a Sidecar Rig before. I had 30 years of experience on powered 2-wheelers, but that was more of a detriment than help in handling a Sidecar Outfit. Sidecars operate more like Sports Cars than Motorcycles (unless the Chair is in the air – but that is a Whole other story!). Counter-steering is nonexistant (until the Chair is in the air) so even though you are sitting on a "Motorcycle" and your Subconscious wants to drive it like a Motorcycle – the machine does not respond as expected – from a 2-wheelers point of view. I almost died.
When I picked up the Rig, my wife left me at the Dealership – she was in a hurry to go shopping or whatever. My only way home was on the Sidecar – of course I thought this would be no problem at all. After all, I have been riding bikes for 30 years. The salesman even told me "Oh, you won't have any problems, it's a motorcycle just like any other." I had asked him if there were any tricks to operating a Combination Outfit and he promptly told me "No, there aren't." Well I came to find out in the following weeks and months that the Dealership had never sold Sidecar Rigs before and none of the staff had ever ridden one. They knew less about them than I did. My Ural did come with a book titled How to Drive a Sidecar Outfit, but I didn't read it until I got home. Anyway, I almost died.
It was 5 pm when I was ready to leave the Dealership – Peak rush hour – and the Dealership was on Sprague Avenue in the Valley. Sprague was a 4 lane business route off the Freeway and Very busy during rush hours. If I had thought about this more, I would have picked up the Ural when the roads weren't so busy. Anyway, I left the parking lot and got into traffic, The Ural was slower than my other machines and the transmission wasn't broken in yet so it didn't go into gear very well. Cars started honking, I tried to get Off the road, but due to the no Counter-steering issue, I ended up in the Middle of the road and the bike died. Now I had traffic coming at me from Both directions, it is dark (November remember) and it started snowing. I flooded the engine trying to start it. Then the battery got too low to turn the motor over. Meanwhile cars are whizzing by and honking – Where is the Holiday Cheer? Why did I think this would be a good idea? Did I just blow Ten Grand on a Russian POS? What am I doing here? Oh yeah, this bike has a Kickstart. Calm down. This machine is based on the WW2 BMW. It's Engine and Tranny are made from the same tooling as the 1955 BMW 650. I know how to start this bike. I kick it – it fires right up first kick. Nice. SideCAR not Motorcycle. I have to Steer it, like a car. Good. Transmission is still real hard to shift – but that will wear in – I know how old machines are. I get it into first gear and driving in the right direction down the road. There is a gas station a couple blocks down the road. I pull in there to fill up and gather my senses, have a chocolate milk and take a few deep breaths. I am still alive and there are no dents on the sidecar rig and it is still upright – oh yeah, 3 wheels, not likely that it will fall over if I forget to put the kickstand down! Ha! I'm Alive!
Okay, so maybe that was a little overly Dramatic. But it was the First time ever I drove a Sidecar Rig. I made it home in one piece and actually enjoyed the rest of the ride home. That weekend, after reading the manual How to Drive a Sidecar Outfit, I rode the Ural to the SFCC parking lot and practiced riding. I spent 8 hours riding in circles, figure eights, flying the chair and running through all the "exercises" recommended in the sidecar manual. It was a blast. It snowed that Saturday night. Sunday I went back to the parking lot. It had snowed about 6 inches overnight, but the sidecar had a powered sidecar wheel so I wasn't worried. My daughter wanted to go and my son didn't. He said it was too cold outside. Okay. My daughter and I bundled up and we went out. We had breakfast at McDonald's then filled up the Ural with fuel and continued on to the parking lot at the college. No one was there and the snow in the lot was untouched. I practiced all the maneuvers from the day before. It was more difficult to fly the chair with my daughter in it, but i got used to that. we started drifting on the left turns and flying the chair on the right turns. My daughter was having a blast and so was I. This thing was Tons of Fun! I didn't think I would enjoy it so much – didn't think it could be as much fun as a Motorcycle, but it was, just in a slightly different way. We messed up almost All the snow in that parking lot. We got home just after dark. The Wife was worried, but my daughter was ecstatic and so animated telling about how much fun she had that the wife calmed down and my son started crying because he had missed out on all the fun. He never refused a ride again.